Food Distribution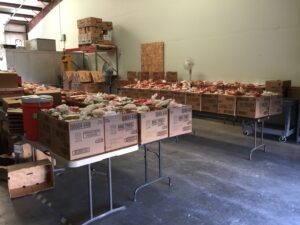 Anyone who is experiencing food insecurity or hunger is invited to come to the Food Pantry to receive and emergency supply of food or clothing. Our regular office hours are from 9:00 am to 1:00 pm, Monday through Friday. To become a regular client, individuals will need to live in Solano County and provide a picture ID, income information, and proof of an address, such as a utility bill. For those who are aged 55 years and older, they may qualify for home delivery. All are welcome to partake in distributions if they meet the income thresholds determined by the Food Bank of Contra Costa & Solano.
Regular food distributions of meat, produce, bakery, dairy, and non-perishable food items are done at 1105 A Airport Road from 12:30-1:30 pm twice each month: on the first Sunday following the first Friday of any month and then on the third Sunday.
Regular food deliveries of meat, produce, bakery, dairy, and non-perishable food items are done on the first and third Friday mornings of the month. Clients must be registered with the Food Pantry and must be home to receive the packages. No food may be left if the client is unable to be home.
---
Lighthouse Ministries has fresh produce available on the 2nd and 4th Wednesdays between the hours of 11:30 am – 1:00 pm. They are located at 101 Montezuma St.
Non-Discrimination Statement (NDS) Federal Level

In accordance with federal civil rights law and U.S. Department of Agriculture (USDA) civil rights regulations and policies, this institution is prohibited from discriminating on the basis of race, color, national origin, sex (Including gender Identity and sexual orientation), disability, age, or reprisal or retaliation for prior civil rights activity.