Welcome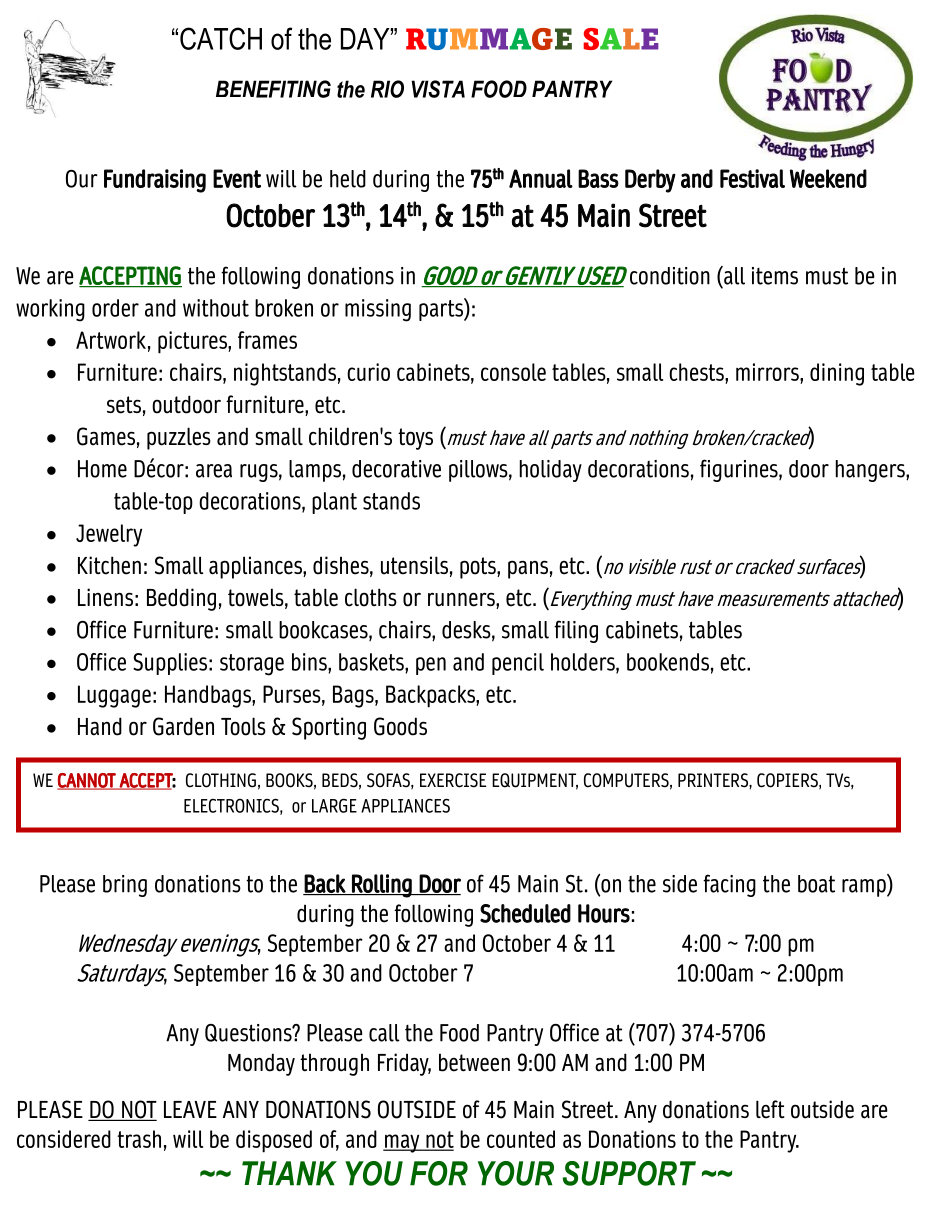 Our Mission
"Feeding the Hungry in Partnership with Our Community"
The Rio Vista Food Pantry is leading the fight for so many of our neighbors who are struggling to meet basic needs, and facing hunger on a daily basis. Children and the elderly are especially vulnerable. We provide over 500 bags of food each month. In the last six months we have inventoried, sorted, packed, and distributed over 12 tons of food. Further, our Food Pantry Closet has clothing options for men, women, and children in order to support those needing every-day wear to live, work, and play. By providing food and clothing, the Pantry contributes and creates an atmosphere of dignity and respect for all involved.
Our efforts are funded by contributions from individuals, groups, churches, businesses, and organizations in the Rio Vista and surrounding areas. Because of your support and partnership, we are able to inventory, store, and distribute donated and purchased perishable and non-perishable food items, clothing, hygiene items, and small appliance items. While we appreciate the donation of items, please know that your monetary donations allow us to multiply your donation by working with the Food Bank of Contra Costa & Solano to purchase food items at rates not replicable in grocery stores. Please know your donation makes a real difference in the lives of hungry families, and helps them gather around their tables for a wholesome meal.
Non-Discrimination Statement (NDS) Federal Level

In accordance with federal civil rights law and U.S. Department of Agriculture (USDA) civil rights regulations and policies, this institution is prohibited from discriminating on the basis of race, color, national origin, sex (Including gender Identity and sexual orientation), disability, age, or reprisal or retaliation for prior civil rights activity.